Baby and Phoebert kept company for over a year. Alas, Baby was getting old. She made it into her 8th year, but had been slowing down for some time. In September 02, her hindquarters became paralyzed, perhaps from cancer. She gamely dragged herself around for a couple of weeks, but finally gave up eating, and it was time to say goodbye. Since the weather was warm, we were able to bring her remains home so Phoebert could say goodbye as well.
Phoebert missed her a lot. She was his first love, and he was lonely without her, seeking much more companionship from his humans than he ever had before.
However, not just any new partner would do! His first two dates, a couple of months after Baby's passing, were not at all promising. He treated those two gals in a most ungentlemanly fashion. But then...

Mike, who volunteers monthly with the bunnies at the Humane Society, encountered a very interesting rabbit. Not only was she delightfully friendly, with impeccable litter habits, but she was very similar-looking to Phoebert -- just about his size and coloring both.
Their first encounter was classic bunny interest, and we adopted her on the spot. The second encounter, at home in our kitchen, was even better.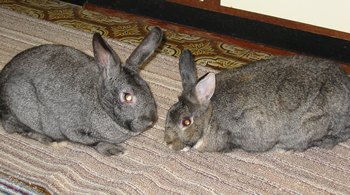 First, nose to nose without trying to bite the noses off!
(Ellie is on the left, Phoebert on the right)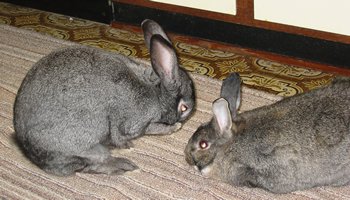 Then individual self-grooming...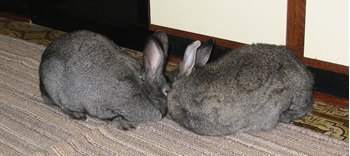 Then a good-natured nudging for dominance...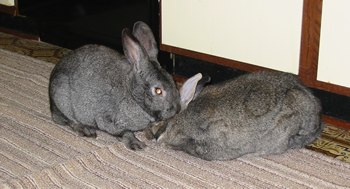 Aha! Phoebert's getting his ears groomed!
We're still taking things slowly, enclosing Ellie in Phoebert's territory so she marks it as her own too. However, we expect that they will make a fantastic couple.