For Bill the job at Bethel was a coming home to his alma mater where he had graduated twenty-five years earlier. His church work in the Mennonite denomination first with youth activities and later with the Mennonite Men's organization had prepared him for public relations in Bethel's Mennonite constituency. He knew most of these people personally, and he was able quickly to make family or ethnic connections with those he had not yet met. He greatly enjoyed opportunities to meet and talk with Mennonite pastors and parents, to answer their questions about Bethel College, and to encourage them to send their children to Bethel College.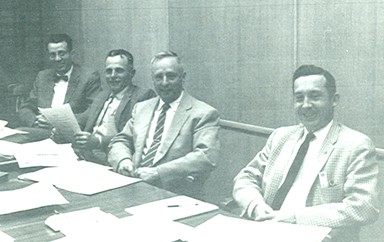 Western District Mennonite Men officers, December 1961,
when Bill Juhnke was president.
Edwin J. Schmidt, Albert Ediger, Juhnke, Louis Regier.
It was a new experience, however, for Bill not to be the top administrator and fully in charge of operations, as he had been on the farm by Elyria and as principal at Lehigh Rural High School. At Bethel Bill's immediate supervisor, the Director of Development, was Edmund G. Miller, a pastor and administrator who shared Bill's values and preferences as a Kansas General Conference Mennonite. Ed Miller and Bill Juhnke got along well together. In 1965 Erwin Goering joined the team as Director of Public Relations. Erwin was Meta's cousin, a Swiss-Volhynian Mennonite with whom Bill was especially comfortable.
In 1965, Bill's fifth year at Bethel, Merle Bender replaced Ed Miller as Director of Development. Bender was an "Old" Mennonite with a newer more modern and rational administrative approach. He brought what one employee called "a larger view to the department," seeking to cultivate non-Mennonite constituencies, especially the business community in the town of Newton.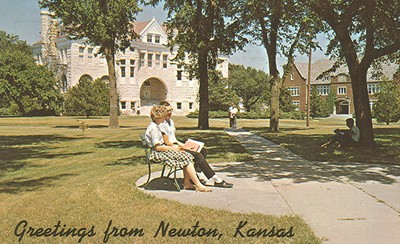 Bethel College postcard with administration building and science hall.
Bethel College in the fall of 1961 enrolled 510 students, including those attending part time. Bill Juhnke, coming onto his fiftieth birthday, was the only admissions counselor. Within a few years this would seem to be a very small and unusually elderly admissions staff. In the early 1960s, in Bethel College's mostly rural Mennonite constituency, it was quite acceptable for an admissions counselor to be more than three decades older than the students he was recruiting. But as the 1960s and 1970s unfolded, a great cultural revolution transformed the landscape of American society and the relationships of young people to the older generation. In his public relations contacts, Bill probably spent more time talking with the parents and pastors of prospective students, than with the students themselves. By the 1970s and 1980s, the family and community solidarity implied by such an arrangement seem quaint and distant. A great "generation gap" required admissions counselors closer in age to their recruits. Students, rather than parents, would make their own choices about where to attend college. And increasing competition for students would require colleges to greatly increase their youthful admissions staffs.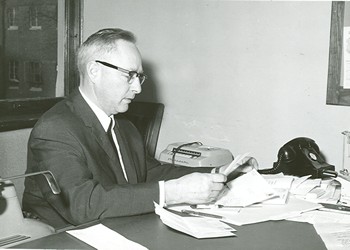 Bill Juhnke, admissions counselor, in his office at Bethel College.
Bethel College joined the trend. In 1965, Ted Drier, a 1961 graduate who had worked as a volunteer teacher in Africa and aspired to a career in public relations, joined Bill as an admissions counselor. And in 1966, Bill's final year at Bethel, Randall Krehbiel, who had graduated that spring was hired. As Ted Drier remembered nearly a half century later, Bethel had a congenial admissions team: "Your Dad, Merle and I got along great. Your Dad was supportive and encouraging. He never talked down to me. I have such great memories of him--and the fun we would have driving out to a school. He was just fun to be with." Drier acknowledged that someone in his fifties "may have seemed old then," but said that Bill Juhnke "was comfortable with any age. He was so easy to relate to. He was just good old Bill." Bill recognized that Ted might relate more easily with younger people, so he encouraged Ted to follow up with some high school students whom Bill had contacted initially.
Bill was thoroughly traditional in his attitudes toward the role of Bethel College in relation to its Mennonite community base of support. The student newspaper, The Collegian (October 5, 1962), asked for his response in an opinion section to the question, "Should the Admissions Standards of Bethel be raised?" Bill opposed raising the standards, unless the mission of the college had changed. He quoted the college catalogs of 1893-1894 and of 1912 and called for continuity in the present. In 1962 the college asked for three letters of reference, one of which was to come from the pastor of the student applicant. So it should remain. Bill did not even address the issue of academic standards--high school class level or grades. In his view, personal relationships and reputation in the church community seemed most important.
During Bill's first four years as admissions counselor, Bethel's enrollment remained fairly stable at around 445 students (full time equivalent). The percentage of Mennonites in the student body in those years went up from 75% (1961-2) to 86% (1964-65)--a trend that may have resulted in part from Bill's recruiting in Mennonite communities. Bill's influence in recruiting students for Bethel College cannot be measured, but some Mennonite families greatly appreciated his efforts in their behalf. In 1987, at the time of Bill and Meta's fiftieth anniversary, Dan and Erma Goering wrote that they were "very appreciative" of Bill's efforts to get some scholarship money so their daughter Elvera could attend Bethel College.