For Meta the transition to Lehigh was stressful. She was in fifth month of pregnancy with Ruth Elinor, who would be born on December 24, the day before Christmas, 1950. The Lehigh house was much smaller than the farm house. It needed new wallpaper (stripes in the living room and matching flowers in the dining room) and other furnishings. Pipe lines had been laid to the house for Lehigh's new natural gas system , but, as Meta wrote, "We are not connected because they ran out of meters when they got to us." Neighborhood children--something one didn't need to cope with on the farm--came into the house and got in the way. The big Jantz family down the street, whose father was "in prison for stealing chickens," seemed to be a problem. Meta wrote to her sister Mary Ann Preheim, "We made a rule that Junior and Janet couldn't go into their house and they couldn't come into ours from now on." Mary Ann had recently moved from the small town of Moundridge to the big city of Denver. "How did you do it?" Meta asked. "It will probably take until Xmas until we're settled," she wrote, "or longer."
New friends in Lehigh helped in the transition. Henry and Marie Guhr invited the family for a wiener roast on moving day. Henry was director of the Lehigh school board, a Bethel College grad and former Civilian Public Service camp director, and operator of "Hank's Auto-Electric" store downtown. He was one of the most supportive kindred spirits in town. Peter W. ("Shiek") and Mary Goering lived two houses down and also gave a warm welcome. Peter, originally from the Eden Mennonite Church and Meta's second cousin, was pastor of the Lehigh Mennonite Church and part time teacher of math, science and journalism at the high school. Mary was, in Meta's judgment, "a very fine minister's wife." She had met Peter at Hartford seminary and was, in the view of some family members, a better preacher than her husband. The Goerings had a small pasture and a milk cow, and sold milk and cream to the Juhnkes at good prices. Their twin children, Peggy and Peter, were the same age as Sharon.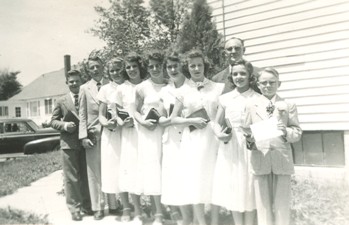 Lehigh Mennonite Church baptism class, Jim Juhnke second from the left.
Rev. Peter W. Goering, pastor. Spring 1954.
The population of Lehigh in 1950 was 240 persons, less than half the number who had lived there four and five decades earlier. The first settlers had been nearly all German-speaking folk, mostly immigrants from Russia. The town had grown along a branch of the Santa Fe Railroad built in 1879 westward from Marion to McPherson. Near the McPherson County line, the railroad took a short diagonal route. The streets of Lehigh were laid out on the bias, as the locals boasted, "so the sun can shine in from all sides of the house." As in all Kansas railroad towns, the Lehigh skyline was dominated by tall grain elevators that received, stored and shipped wheat grown in the fertile surrounding farmland. In its thriving heyday, Lehigh had had more than forty business and commercial establishments, two banks, a city jail, a broom factory, and a printer that published three German-language periodicals. The depression of the early 1930s had devastated the town. Some thirty houses were abandoned or removed when owners could not pay their mortgages. The town never recovered.
Lehigh in 1950 had three church congregations, all originally German speaking. Two were Mennonite-Mennonite Brethren and General Conference Mennonite. One was German Lutheran. A Seventh Day Adventist church in Lehigh, also with members who had immigrated from Russia, had closed its doors in 1943. By 1950 the Mennonite Brethren and Lutheran churches were declining rapidly. They closed in 1953 and 1956 respectively. Lehigh's population continued to decline during the years the Juhnkes were there, from 240 in 1950 to 178 in 1960. The signs of decline-abandoned houses and lots-were all over the town. Meanwhile, Lehigh's economy survived as a grain center and farmers market. A "Lehigh Booster Edition" of the Hillsboro Journal Weekly (November 19, 1953) acclaimed Lehigh as the "Wheat Storage Center of Marion County," with storage facilities for 331,000 bushels of grain. The newspaper editorial stated, unconvincingly, that "Lehigh's star has not faded."