One point of minor contention in the Juhnke family had to do with the eroding moral code that forbade, among other special farm activities, the harvesting of wheat on Sunday. To the dismay of Meta and other family members, Bill was powerfully tempted to trespass a rule that he had observed all of his life. Perhaps his moral controls had been affected by his stroke. On July 16, 1985, Jim wrote in a family letter, "It is hard on Dad that so many others (esp. the Unraus) are cutting wheat on Sunday. He threatened to go out with the combine this afternoon--but all the rest of us protested. The forecast is for good weather, the wheat is still a little green, and they don't need the money desperately, besides which the Lord set aside the Sabbath for rest." But Jim also had to admit that on Sunday afternoon he had unloaded a pickup full of manure from the farm on his compost pile in North Newton, and asked Joanne to harvest beans from the garden.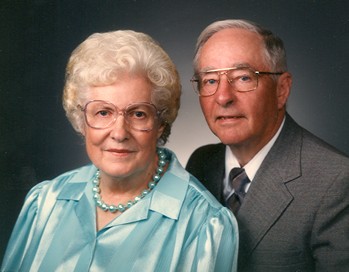 Meta and Bill Juhnke at their 50th wedding anniversary, June 7, 1987.
On Sunday June 7, 1987, Bill and Meta's six children hosted a 50th wedding anniversary celebration for their parents at the Eden Mennonite Church. They served about a hundred people for lunch, mostly Bill and Meta's brothers and sisters ("geschwister," wrote Meta in her diary, showing her preference for German words that were more efficient than their English equivalents) and their families. Relatives came from California, Colorado, Arizona and Florida. For the two o'clock afternoon program the six children gave a readers theater presentation of family memories and tributes. Meta's sisters Mary Ann and Marjorie had "engineered" the making of a surprise quilt. Bill and Meta shook the hands of some three hundred people who attended the afternoon reception. Afterwards the primary family went to the Elyria home for more conversation, games and leftovers. It was, Meta said, a "Great day!"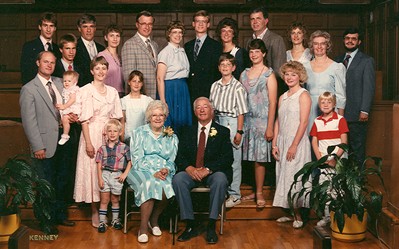 Bill and Meta family at the 50th wedding anniversary, June 7, 1987.
(Click through to larger image for full caption.)
Before the celebration, Bill Jr. had written to Bill and Meta's relatives and friends inviting them to send letters of greeting and reminiscence to be assembled in a plastic binder. Eighty-five persons or couples responded with messages, some including photographs. Bill and Meta greatly enjoyed reading and re-reading these documents of review and appreciation of their lives. Some quotations (not including those by Bill and Meta's children):
Richard Schrag: "I always considered Bill as being quite daring. . . . (In one speech he said) 'The weather is so dry and times are so tough that the farmers can't even raise a corn cob to wipe the (pause) sweat off their brow.'"
Elizabeth Goering: "Visiting with you has always been comfortable, interesting, and most certainly delightful--no matter what the subject matter: us local Democrats, national politics, theology, Anabaptist history, . . . ."
Herbert C. Stucky: "We were especially interested in William Juhnke's writings in the Moundridge Journal about the School Districts and Teachers and surrounding Communities."
Elda Waltner: "It used to be only old people celebrated a golden anniversary. Now it happens to young couples as well."
Edna Goering Kaufman: "You (Bill) were a super actor but not always the easiest to follow with the script. You did a lot of ad-libbing and the clue line wasn't always the same. I believe it was in our first play, Yimmie Yohnson's Yob where one time you weren't sure of your lines and for an excuse to get off the stage you looked out the window and said, 'Oh, the pigs are out. I must get them back.' And out you went."
Verna Flickinger: "When Meta and I were teenagers we walked upstairs to Sunday School class and she was several steps in front of me and more girls, and one of my girlfriends whispered to me, 'Meta's face is so pretty it reminds me of an angel.'"
Emma Stucky: "Meta it was always a pleasure working besides you in Ladies Aid. . . . You taught me such a valuable hint--marking quilt blocks with a sliver of soap and I've been doing it ever since."
Alvin and Marie Schrag: "You are a great Sunday School teacher and I enjoyed being in your class. Both of us enjoyed you the year you taught Mennonite History at Eden."
Ed R. Stucky: "I recall that Model A car Bill had with a rumble seat. This was very useful in courting one of the brightest students in Moundridge High School."
George Buhr: "Our family enjoyed many hours in your comfortable (Lehigh) home, and w remember that most visits included a treat of hot, delicious popcorn which Jim popped up."
Mrs. Lester Goering: "Bill has been a history buff from way back. As I remember in grade school Willie, as Bill was called then, spent a whole recess with the teacher on their history lesson that they had that day. If I remember right the teacher was Arnold Stucky and Bill was in the 7th grade."
Jean Hassman: "When you, Bill and Meta, became Democrats, you might have gone against some family traditions! But after considering the issues, especially those related to peace and justice, you folks became loyal party members who practiced effective teamwork in leading the struggle for those less fortunate than the majority."
Walt Neufeld: "You were well read, and continued to work at intellectual and spiritual growth all the time. TV somehow never burned up your minds. You were inquisitive, open, always in search of truth, no matter where it would lead. . . . You were good teachers, good theologians, and supporters of higher Christian education. Above all, you were first and foremost, supporters of the church."
Peter Dyck: "Mention the name Juhnke and my mental retrieval system instantly flashes on the screen the Juhnke farm with its Juhnke grove used by Eden for church and Sunday School picnics."
Lavina Ediger Goering: "Thank you for all the talents your children shared with us--piano, violin and all the wit from your talented family speakers."